Statement of Safety Policy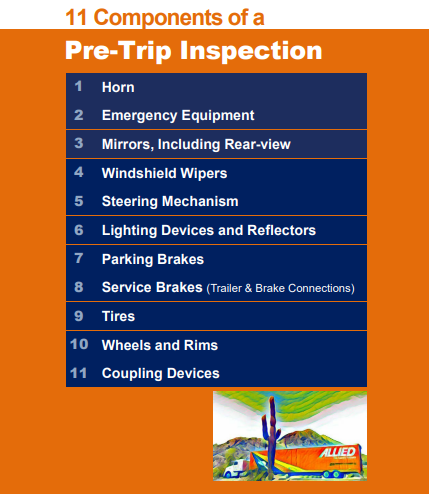 Atlas Transfer & Storage Co. is committed to advancing our safety program. Our management team actively promotes and adheres to a rigorous training program to maintain safety both in the workplace and out on the road. We make a conscious effort to share the responsibility for implementing and enforcing our safety program to maintain our reputation as a safe motor carrier.
A safety consultant specializing in safety best practices leads monthly safety meetings to keep us in compliance. Our team meets to review topics such as equipment maintenance, workplace safety, driver training, accident process and procedures, logbook compliance, daily vehicle inspections prior to operation and proper lifting and carrying techniques. This is an example of a safety meeting handout outlining the 11 components of a pre-trip inspection.
Safety Compliance Screening for our Team
Your safety can never be taken for granted. That's why we take the time to know the backgrounds of everyone on a moving team – this includes drivers, packers, laborers and sales representatives.
As part of the Allied certified labor program, we are required to follow strict procedures to ensure that all drivers and agency personnel who enter a residence have passed rigid screening protocols in advance of moving day. Not all applicants qualify for Allied Van Lines certification so you have the extra reassurance that we have already done the work to keep your safety and security in the forefront.
Our company is also committed maintaining a workplace that is free of drugs and alcohol. To promote and maintain safe and efficient working conditions, our employees, crews and drivers participate in a drug and alcohol screening program. The safety of our team both in the home and out on the road is our top priority.
To further demonstrate our commitment to safety, Allied Van Lines awarded Atlas Transfer & Storage as the Outstanding Safety Achiever, Best in Class for 2020 and CSA Agent of the Year for 2022.
Move with confidence with our company and know that we have your safety in mind. Given that Allied Van Lines was selected as the 2015, 2016, 2017, 2018, 2019, 2020, 2021 2022 and 2023 Most Recommended Moving Company in America by Women's Choice Awards, the word is out that your safety is our priority.