Real Trucks are His Business, Toy Trucks are His Hobby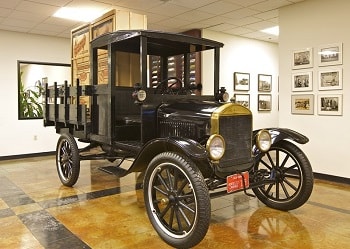 When Tom Oakley, President of Atlas Transfer & Storage was just a boy, he received his first toy truck. It was modeled after the real trucks he saw every day around the family's moving business. Back then he was just an excited kid with a new toy – he didn't realize he'd just launched what would become a lifelong passion.
More than fifty-five years later Tom Oakley is running the family business, Atlas Transfer & Storage, an agent for Allied Van Lines. His San Diego office has become a monument to this collection which now totals more than 2,000 toy trucks.
"I just never lost the fun or the pleasure of collecting these trucks," he says. "Over time, it has almost taken on a life of its own."
The first truck you notice when entering the headquarters office in Poway is not officially a part of the collection. In fact, it's not a toy at all! Purchased in 1957, it is a fully-functional 1925 Model T Stake-bed truck that greets customers in the lobby. This vehicle is a testament to the longevity of Atlas Transfer and Storage Co. – it was built the same year the company was founded. It is a constant reminder to customers and employees alike of the tradition, history and commitment to service that has kept Atlas Transfer & Storage in business for more than 95 years.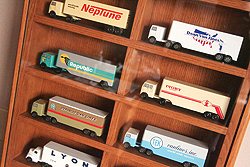 However, a quick glance around the office of this San Diego moving company reveals the extent of Mr. Oakley's collection. The toy trucks, ranging in size from 10 inches to three feet in length, are proudly displayed in glass cabinets lining the walls, perched above cubicles, atop filing cabinets and on just about every flat surface throughout the office. Approximately ninety percent of the trucks represent a wide variety of moving and storage companies such as United Van Lines, Mayflower, and Allied Van Lines, the company under which Atlas Transfer & Storage is franchised. The other ten percent represent a variety of freight hauling companies.
"People always have a reaction when they see the trucks," says Linda, Tom's wife and Vice President of Atlas Transfer & Storage Co. "Most are in awe at the extent of it. They ask how many trucks there are, why they're here, that kind of thing. It inspires a lot of curiosity. Everyone appreciates it on some level."
Perhaps the most meaningful part of the collection is the set of trucks hanging in a glass case next to Tom's desk. Each of the trucks in the case bears the logo of a moving and storage or freight company that has gone out of business over the years. Tom states the trucks help him "keep things in perspective." His own company has been in his family since the 1940's and you will notice the Atlas Transfer & Storage name emblazoned on several trucks in his collection.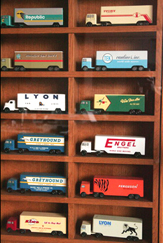 According to Tom, there are only four or five "serious" collectors around the United States, many of whom he knows personally. The trucks can range in cost between $12.00 and $1,500 each, depending on their rarity, manufacturer and other factors. When a company goes out of business, the trucks bearing that logo immediately become more collectible.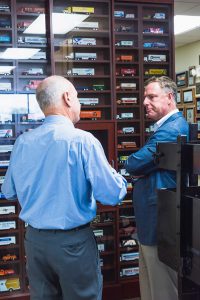 He built his collection largely by purchasing from toy stores, antique stores, private collectors, manufacturers and online auction sites like eBay. He has also received many of the trucks as gifts.
"The larger your collection gets, the more you build a reputation among collectors," says Tom. "Some of the biggest boosts to my collection have come from other collectors who wanted to pass their collections to someone who would get as much enjoyment out of it as they have."
And regarding the status of the collection? "I'm still building it," Oakley says. "But the pace has slowed a bit. I think I've exhausted the supply." So which is he more proud of, his toy truck collection, or his San Diego moving and storage company, Atlas Transfer & Storage?
"Good question," laughs Tom. "Both have brought me a lot of joy and a tremendous amount of pride over the years," he says.