February San Diego Events
Feb 01, 2016
10 February Events in San Diego You Don't Want to Miss From La Jolla Blue Book
There is never a shortage of things to do in the great city of San Diego. For just a few things to keep you occupied in the months before your move to or from San Diego we turned to La Jolla Blue Book's list of events you will not want to miss.
From exploring Tijuana's up-and-coming art scene on a bus tour to celebrating Mardi Gras in style with a huge street fair and San Diego's 1st annual Theater Week, we've got you covered on all the major February events in San Diego. You won't want to miss any of these activities! Please remember to check ticket availability for all events prior to attending.
San Diego Museum Month
Feb 1 – 29
Leap into 45 museums in San Diego this February. Presented by Macy's, this popular event allows participants to enjoy half-off entry fees at 45 San Diego Museum Council membership museums. The savings encourages locals and visitors to explore a variety of arts, culture and science-oriented destinations. From Oceanside Museum of Art down to the Tijuana Estuary, there are ample opportunities for edutainment, creating memories and fun for the whole family.
San Diego Jewish Film Festival
Feb 4-14
This year the festival will showcase more than 96 films of the best contemporary Jewish-themed films from around the world celebrating life, human rights, and freedom of expression. In addition to the carefully selected short-subject, documentary, and feature length films, the Film Festival features an international roster of visiting guest artists, including actors, filmmakers, and scholars, who introduce their work, participate in panel discussions, and meet and greet with the festival patrons.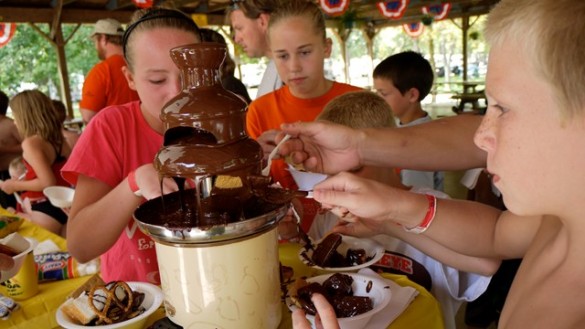 Chocolate Lover's Weekend
Feb 5-7
Whether you are a couple looking for a romantic get-away or a family of chocolate fanatics looking for a memorable weekend, join San Diego Metro KOA Campgrounds for an indulgent stay filled with chocolate! They'll have special events like Climbing the Rockwall and the Jumping Pillow, and on Saturday, the reveal of an all-you-can-eat Chocolate Buffet featuring Nutella Pizza and Chocolate Bacon!
La Jolla Symphony & Chorus' Concert of Exploration
Feb 6 & 7
Steven Schick conducts a concert of exploration. The program begins with György Ligeti'sAtmosphères (used in the film 2001: A Space Odyssey) and concludes with Claude Debussy' magnificent evocation of the power of the sea, La Mer. In between come Philip Glass's Piano Concerto No. 2, inspired by the journey of Lewis and Clark, with soloist Lisa Moore, and the premiere of a colorful orchestral work by Australian composer Erik Griswold, Jeux à la fin du monde (Games at the end of the world). There will be a pre-concert lecture by Steven Schick one hour prior to concert times.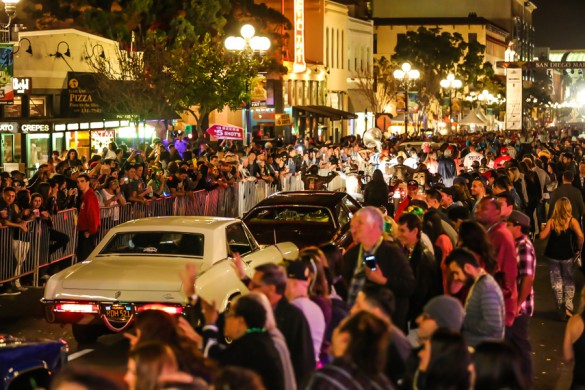 San Diego Mardi Gras Celebration in the Gaslamp
Saturday Feb 6, 5pm – midnight
San Diego Mardi Gras will be bringing back the best performers, the Big Easy Parade, and a spectacle that sets the standard for San Diego's nightlife and entertainment. Five stages of energized entertainment include International and National DJ talent as well as a live stage of Mardi Gras inspired performances. These five stages offer something for everyone and will create an epic experience that will incorporate street performances, incredible visuals and new energetic groups.
Tower After Hours: Ireland
Feb 11, 6pm-8pm
Experience the vibrant cultural heritage of Ireland with San Diego's own Irish-American community! Sample bites of classic Irish pub foods, enjoy the melodies and sights of traditional Irish music and dance, and sip a cold Guinness inside one of San Diego's best museums – the Museum of Man in Balboa Park. Don't miss this fun party celebrating the beauty and traditions of Ireland!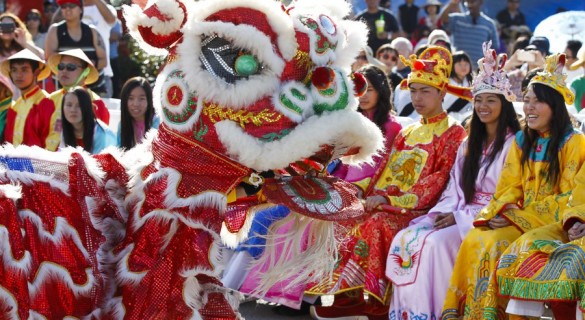 San Diego Tet Festival
Feb 12-14
The Vietnamese-American Youth Alliance presents the Spring of Love, a free city-wide Tet festival of games, prizes, food, and entertainment. For the New Year 2016, folks are celebrating the unifying love of the Vietnamese people, culture, and legacy. Visitors will be able to wish for eternal love at the spectacular wishing tree, capture photos with a romantic photo set, or purchase special roses for loved ones. For the adventurous, there will be an authentic monkey bridge and other historical sets to take in. The Tet festival will be a host of enough interactive fun and entertainment for everybody!
Jump Start Your Heart 5k
February 14
Join San Diego for the 5th Annual Jump Start Your Heart 5K where you can walk, run and celebrate as you support the Children's Heart Foundation. Motivated by the needs of children born with congenital heart defects, the goal of The Children's Heart Foundation is to bring health, hope and happiness to children impacted by heart defects, the number one birth defect in the United States.