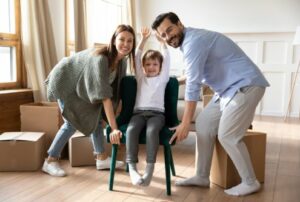 The dining room generally includes your most fragile china and crystal stemware. Each item should be carefully wrapped in packing paper or bubble wrap and placed in dish pack cartons; cellular dividers are recommended to be used for stemware. Document any items with values exceeding $100 per pound on your "High Value Inventory" form to receive proper valuation coverage.
China and Glassware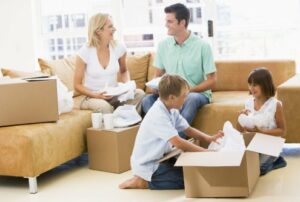 Individually wrap all glassware, bar ware and pieces of china. Use several sheets of clean paper, start from the corner, wrap diagonally and continuously tuck in overlapping edges.
Use a generous amount of cushioning and paper padding in order to properly protect all china and glassware.
A double layer of newsprint serves well as outer wrapping.
Be sure to label the cartons with room, contents and "FRAGILE – THIS SIDE UP."
Chandeliers and Leaded Glass Shades
The best option is to request that your moving team pack chandeliers, large leaded or other glass lamp shades. These specialty items may also require third-party crating services, which Atlas Transfer can arrange for you.
Cups 
Whether or not you are using cellular dividers, first wrap cups individually in a double layer of paper and place them upside down on rims in a row.  These should be on an upper layer and with all handles facing the same direction. Top off the layer with wadded newsprint. Even when using a dish packs and dividers, wrap china cups individually first and be sure to protect handles with an extra layer of clean paper. Then, pack the cups upside down.
Curio Cabinets, Figurines and Other Delicate Items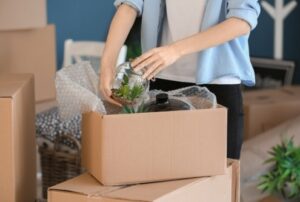 Curio cabinets, figurines and other delicate Items should be well-packed and well-protected with plenty of cushioning.
Wrap first in tissue paper, paper towels or facial tissue. Then, wrap carefully in paper that has been wadded and flattened out.
Small mirrors, plaques and pictures should be wrapped individually in tissue paper with an outer layer of newsprint.
A bath towel or small blanket makes an excellent outer wrapping and padding for glass.
Place flat items on edge in a carton.
Dining Room Furniture
Your packing crew will shrink wrap large, upholstered items.
Speak with your Relocation Consultant about any leather furniture items.
You can provide extra protection to table corners with cardboard.
Dining Room Table Leaves
Dining room table leaves are best transported in paper pads, then taped to hold the padding in place. (Note: never place tape on the surface of wood.) Don't use plastic wrap, as moisture may get trapped within and damage the wood.  Your moving team will pad and transport these items with the rest of your furniture. 
Draperies and Curtains
The best and easiest option is to pack your drapes and curtains in wardrobe cartons. Fold them lengthwise, place them over a padded hanger, pin securely and hang then in the wardrobe. Curtains and drapes may also be folded and packed in cartons that are lined with clear paper or plastic wrap.
Flat China and Flat Glassware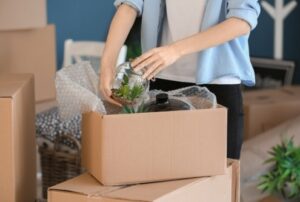 Cover the bottom of a carton with cushioning material. After wrapping each piece individually with clean paper, wrap up to three in a bundle with a double layer of newsprint. Then align the bundled pieces in a row on edge of the carton.
Larger china and glass plates, platters and other flat pieces are excellent as the lowest layer in a dish pack.
Do not leave any voids or unfilled spaces in cartons. Fill any empty spaces with crushed paper.
Include a two to three inch layer of wadded paper above the bundle to protect rims and provide a level base.  You can add a flat piece of cardboard as well, to help level and stabilize for the next layer.
The second layer should be shallow bowls, smaller plates and saucers. Wrap and pack these items in the same way as listed above.
Marble Slabs, Glass Table Tops, Large Mirrors and Statues
For marble slabs, glass table tops, large cases, large mirrors and statues, consult with your Relocation Consultant regarding scheduling a third-party service to crate these specialty items. 
Paintings and Artwork
For paintings and art pieces, consult with your Relocation Consultant regarding scheduling a third-party service. Be careful to never let paper touch the surface of an oil painting.
Rugs
Leave area rugs on the floor for the crew to handle on move day. Area rugs are loaded last and unloaded first so the furniture coming off the truck can be placed on top of the rugs. You may also consider having your area rugs professionally cleaned before you move. You will get them back from the cleaners wrapped, rolled and ready for shipping.
Silver Flatware
To protect silver pieces from tarnishing, they should be completely enclosed in newsprint or plastic wrap.
Hollow ware, including bowls, tea sets and serving dishes, should be wrapped carefully as fragile items and packed like china.
Loose flatware may be wrapped individually or in sets, and in paper, clear plastic or small gift boxes that are then secured with tape.
Even if silverware is in a chest, consider wrapping the pieces individually and you may need to reposition them in the chest. At a minimum it is suggested that you fill all voids in the chest with packing paper to prevent shifting.