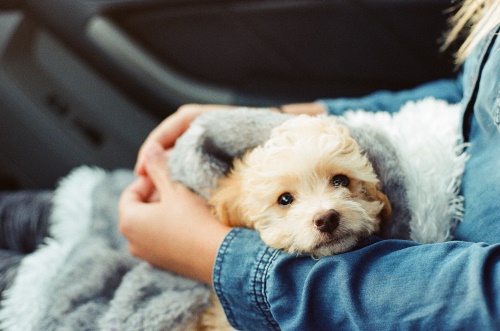 Pets are an important part of the family and they deserve special care throughout your relocation. Moving can often be very stressful for animals. It is essential to keep pets comfortable and reassured while you are moving and settling them into their new home.
Atlas Transfer & Storage is committed to ensuring that all pets are taken care of throughout the move. Let your Relocation Consultant know about any pets involved in the move and we will provide the best resources possible to ensure that your pets are moved safely. We hope that the following pet relocation tips make the transition stress-free for both you and your four-legged friends.

Tips for Moving with Pets
Bring the Boxes in Early: The ASPCA recommends bringing your moving boxes into your home early. By doing this, it will give your pets some time to become used to them.
Organize Medical Records and Shots: When moving to a new location you will likely need to change vets. Make sure to acquire a copy of your pet's medical records before you move so you can give them to the new veterinarian. While you are picking up the medical records, make sure that your pet's shots are up to date. As an animal owner you must make sure that your pet has current rabies tags on their collar, especially if you will be letting your dog out to exercise while traveling to your new location.
Introduce Pets to the New Location Slowly: Once you arrive at your new home, introduce your pets to one room at a time. After they are comfortable with the first room, introduce them to the second room. Continue this process until they are comfortable with the entire house. This is one of the most important pet relocation tips. If you introduce the pets to the home too quickly they may go into hiding, try to run away or destroy your household items.
Find and Reserve Pet Friendly Hotels: If you plan to stay in a hotel on the way to your new location, research accommodations before you leave. You will want to make sure to locate pet friendly hotels, and note that there may be additional fees that you will have to pay per animal.
Consider a Pet Sitter: For some pets (no comma) it may be easier to find a family member, friend, or boarding facility to take care of your pet during the most crucial parts of the move. A pet sitter may help eliminate the stress of unfamiliar people in the home, open doors, unfamiliar surroundings, or extreme hot/cold temperatures. If your pet gets anxious or is easily stressed, a pet sitter may be the best option to help them stay calm, allowing them to adjust to their new surroundings once things are more settled.
Moving with Pets by Car
Consider a Veterinary Exam: In the weeks before the move, schedule a check-up with your veterinarian to ensure your pet is in good health. Also, be sure to request copies of the vaccination records, health certificate (if needed), update identification tags, and discuss any precautionary measures such as anti-anxiety or tranquilizer medication for the trip.
Adjust your Pet to the Car: If your pet is not familiar with car trips, slowly adjust them to the car by taking them on short trips in the weeks leading up to the move.
Avoid Overfeeding: It is recommended to avoid feeding pets for up to seven hours prior to the trip to ensure the pet's stomach is settled. Pack extra water with a feeding bowl.
Plan for Pet Friendly Stops: Stop regularly for bathroom breaks and be sure to consider pet-friendly locations whether it is a rest stop, restaurant or hotel. Avoid leaving your pet alone in the car.
Keep Small Pets Comfortable: If the pet is traveling in a cage, ensure it is placed in a stable, well-ventilated area of the car. To keep a calm environment, consider covering the cage with a blanket or towel while the car is moving.
Moving with Pets by Airplane
Airline Instructions and Regulations: Contact the airline well in advance for guidance on flying with your pet.
Reserve a Direct Flight: Consider direct flights to shorten the amount of time the pet will need to be confined to a crate. Also be sure to choose an air-transport kennel that's large enough for your pet to stretch as needed.
Mark your Pet's Travel Crate: Mark the crate with "Live Animal," your pet's name, your new address and phone number. Include any special instructions for handling your pet.
Follow-up with Flight Attendants: After boarding the plane, ask the flight attendant to confirm your pet has been boarded on the plane as well.
In Summary
Moving with pets does not have to be a stressful experience. With the pet moving tips from Atlas Transfer & Storage, you and your pet can enjoy a positive moving experience. The safety and health of your pet is most important during the relocation process. Contact us today to learn more about how we can accommodate your four-legged friends when you move.
Additional Pet Moving Resources
The Independent Pet and Animal Transportation Assoc. Intl., Inc.
Pet Hotel and Travel
Pet Community
Note: The following links are not endorsed by or affiliated with Allied Van Lines or Atlas Transfer & Storage Co.