California Moving & Storage Association 2020 Membership Certificate
Jan 22, 2020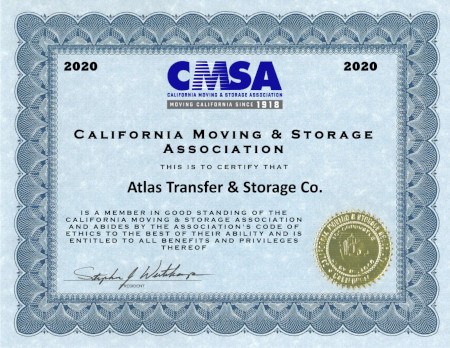 Atlas Transfer & Storage Co. was re-certified as a member of the California Moving & Storage Association in January 2020.
About The California Moving & Storage Association
The California Moving and Storage Association (also known as the CMSA) is a non-profit trade association that represents licensed and insured California moving companies. The CMSA offers its members many tools and resources to assist with regulatory and compliance issues. The CMSA not only provides numerous benefits to its members, but they also play a valuable role for the California consumer. Consumers who choose to use a CMSA certified member are more likely to receive honest, legal and efficient service.
The CMSA certification indicates that the member is in good standing with the CMSA and abides by the association's code of ethics to the best of their ability. The CMSA code of ethics includes: encourage the highest levels of industry service quality, advertise in an honest manner and operate as responsible employer.
More information on the CMSA code of ethics.

Atlas Transfer & Storage Co.
An agent for Allied Van Lines, Atlas Transfer & Storage Co. is a moving and storage company with trucks operating coast to coast. Founded in 1925, Atlas Transfer & Storage Co. continues to be a San Diego based family owned business.
If you are in need of residential moving services, corporate relocation or storage services, contact us today for a free estimate.