What To Do When The Movers Are Moving
Aug 09, 2019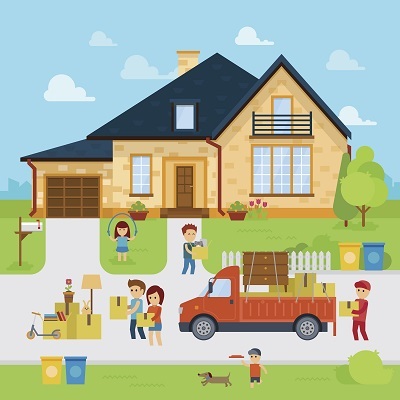 The big moment has finally arrived. After weeks (or months) of packing and decluttering, it's finally moving day. Anyone who has ever relocated has seen the hurricane of activity that begins once the moving truck arrives. People often wonder what they should do once the movers get to work. Here are some great tips on moving day etiquette and how to best to use your time.
Take A Final Look At Your Box Labeling
If there is one thing you want to optimize on moving day, it is efficiency. When the moving truck arrives at your new place, the crew will really appreciate being able to figure out where everything goes. Before everything goes on the truck at the old house, be sure that you have labeled your boxes with clear descriptions such as "Kitchen", "Bathroom" or "Garage". Knowing exactly where to put all of your boxes will be incredibly helpful for the moving team. The truck will get unloaded more easily and you won't have to move boxes from room to room after the movers leave.
Offer A Cold Beverage Or Snacks
The people who arrive at your house on moving day have a challenging work schedule ahead of them. Moving is a very physically strenuous job and it requires a lot of fortitude and endurance to get through the day. When the crew arrives, be sure to offer them some refreshments and a few light snacks throughout the day. Go to the store ahead of time and get several different kinds of soda or juice. Some cookies or crackers will also go a long way in keeping everyone energized. They will really appreciate your kind gesture and the move will go fantastically well.
Give Them Room To Work
If you have a home with a driveway, let the movers park as close to the house as possible. Put your cars across the street and off the driveway. If your garage is cluttered with boxes and other belongings, be sure that the movers have a clear path from the house to the truck. Taking care of these little details is worth its weight in gold to the moving crew.
Be Available (Don't Disappear)
Even though the movers will be super focused on their work, they might need you to answer question or give direction. It is best for you to be home while the move is going on, so the team can keep working uninterrupted in case something unexpected happens. Moving can be a very complex process and it is always advisable for homeowners to be there in the case of a hiccup.
Put Fragile Stuff In Your Car
Professional movers will always treat your belongings with the utmost care. It is best however, to put any valuable or fragile items in your car for transport to the new home. Property such as jewelry, coin collections or other small valuables should be taken with you directly. Other items that contain glass or are easily broken will have a much better chance of arriving undamaged if you supervise them during the journey.
Let The Magic Happen
Professional movers have years of experience successfully transporting peoples' belongings from point A to point B. While it is tempting to advise them on how to best get your stuff to the truck, let them fully utilize their knowledge and industry training. You hired the best to get you out of the old and into the new. Sit back and let the magic happen. You will be glad you did!
Happy Moving!