Allied Van Lines Announces 2016 Agent of the Year Award
Nov 15, 2016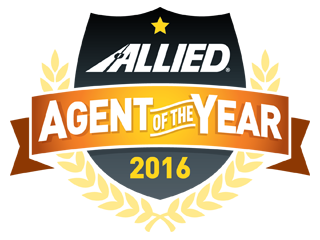 POWAY, Calif., Nov. 15, 2016 /PRNewswire/ — Allied Van Lines, Inc., one of the world's largest moving companies, is pleased to announce Atlas Transfer & Storage of Poway, California has been awarded the prestigious 2016 Agent of the Year award.
This award is given annually to the Allied agent that provides outstanding customer service and experiences growth in all aspects of their household goods moving business. Qualifying agents must have excellent quality and customer satisfaction scores along with a superior safety record. They must also demonstrate a significant increase in both hauling and booking volume year over year. This year's winner held the first spot in year over year booking, hauling and summer growth; overall quality score; lowest claims frequency and severity; and best safety score.
"We are overjoyed at this latest recognition for our team. There is no question that we have an absolute commitment to exceeding customer expectations," said Tom Oakley, President of Atlas Transfer & Storage. "Our motivation was and continues to be delivering a high-quality move experience with the help of our talented team at Atlas Transfer & Storage and the support of the Allied network. We are thrilled to be recognized for our efforts with this prestigious award."
"Atlas achieved first place in every category because of their dedication and focus on customer quality and satisfaction. They never missed a step in delivering what the customer wanted and it shows in their scores," said Lesli Bertoli, vice president and general manager of Allied Van Lines. "We congratulate Tom and the entire team for demonstrating their commitment to providing the highest level of excellence to the customer in so many ways."
Atlas Transfer & Storage is a three-time winner of this Award and also earned several other awards in the Military, Operations and Quality divisions. An agent with Allied Van Lines since 1948, they specialize in local, long-distance and international moves for consumers, corporate clients and military/government personnel.
View the press release originally published on PR Newswire.
Learn more about the Atlas Transfer & Storage team here.