Atlas Delivers Exceptional Customer Service with Updater
Apr 10, 2017
Atlas Transfer & Storage is not your average moving company. Since 1925, they have dedicated themselves to providing an exceptional moving experience for each and every one of their customers, with an emphasis on efficiency and transparency. We spoke with Sara Oakley, the Director of Business Development at Atlas Transfer & Storage about the company's unwavering commitment to quality and how Updater helps them deliver top-notch customer service.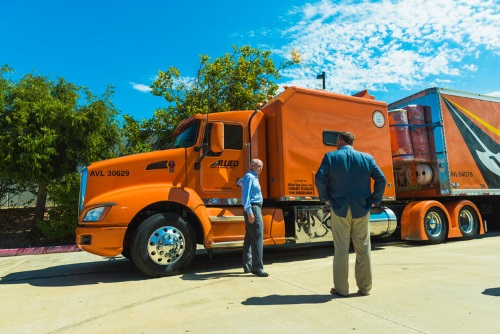 What makes Atlas Transfer & Storage unique in the moving industry?
Atlas Transfer & Storage has been in business since 1925, and an agent for Allied Van Lines since 1948. We are a family-owned and operated moving and storage company with deep ties to the San Diego community.  We provide local, national, and international services for residential, office, and corporate clients, which also includes short and long term storage, a small shipment program, automobile transport, and full service packing, crating, and un-packing.
We are best known for a steadfast commitment to quality.  Our team of moving professionals takes great pride in their work and strives towards excellence with each and every move.
Atlas Transfer & Storage has won award after award for your detail-oriented, top-tier customer service and commitment to quality. What's your secret?
Atlas Transfer & Storage has been recognized time and time again for our attention to detail, exceptional customer service, and steadfast commitment to quality. We set the standard for industry best practices in 2016, as demonstrated by our Apex Award for Excellence over Time in recognition of achieving the highest quality rating of "excellent" for twenty consecutive years.
What's our secret? It is our team! There is no other team in the industry that takes care of business like Atlas Transfer & Storage.
The Atlas Transfer & Storage team
What role do you think technology plays in the moving process today (for customers and your team)?
Technology is everything during the move process – from our Relocation Consultants walking through the home doing an in-home survey, to the estimate and required paperwork being sent electronically to the customer to be signed through Docusign, to the tracking of an in-transit shipment on-line, to the long distance drivers transitioning over to electronic logbooks later this year. We strongly believe in – and embrace – technology. We know that it helps provide a better, more efficient experience for our customers.
How does Updater help you provide a better customer experience?
Updater provides our busy, time-constricted customers with a consolidated, centralized tool to update their address, accounts, and more in one user-friendly portal. Our customers love the "one stop shop" experience with Updater. It is easy and efficient – a quick item to check off the dreaded moving task list!
Similarly, how has Updater helped the Atlas Transfer & Storage team?
Updater is a value-add that we can provide to our customers that helps us stand out even more in the marketplace. In the moving process, our customers are typically overwhelmed from all of the tasks that need to be accomplished before the moving truck arrives. Updater is just one more way that Atlas Transfer & Storage demonstrates that we are continually striving to provide our customers with an efficient, smooth transition during the move process.
What is one thing you wish more customers knew about the moving process?
We recognize that moving is stressful, and our team prides itself on taking the worry out of the move. Customers continually tell us how much they appreciate the smooth and organized moving process that we provide. The needs of our customers are continually changing and evolving, and as a result, we are continuing to expand our relocation services to remain at the forefront of our customers' needs.
Aricle originally published on Updater.com