CMSA 2023 Membership Certification
Feb 16, 2023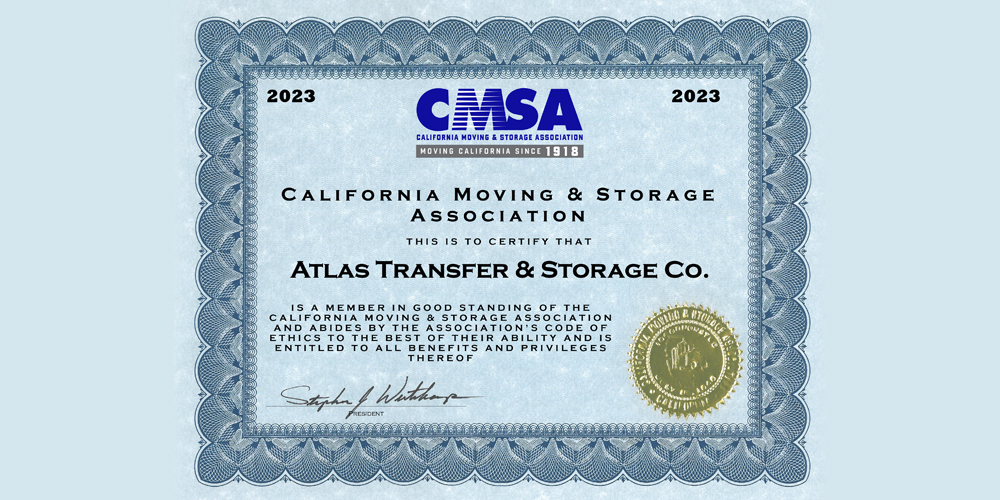 Atlas Allied Becomes Member of Leading California Moving Association 
It is our honor to announce that Atlas Allied is now a certified member of the California Moving & Storage Association for 2023. As a leader in California's moving industry, the CMSA welcomes movers who are conscientious, committed and reliable. Our membership in this organization affirms our ability to offer comprehensive moving solutions for every consumer.
About The CMSA
Founded in 1918, The CMSA (The California Moving and Storage Association) is a non-profit trade association representing licensed and insured California moving companies across 12 chapters. The CMSA provides effective leadership for the industry through the provision of numerous educational resources, industry forums and programs. They also provide confidence to consumers in California by providing a way for them to identify movers who are more likely to provide exceptional service.
About The Certification
One of the central requirements to become a member of the CMSA is to abide by their code of ethics. This code includes a commitment to observe all laws relating to operations & employee safety, promote the lawful best interests of the industry & association and encourage employees to behave honorably and responsibly. By granting certification to a company, the CMSA confirms a mover's good standing and their commitment to follow as closely as possible this code of ethics.