Moving Out Essentials
Mar 03, 2020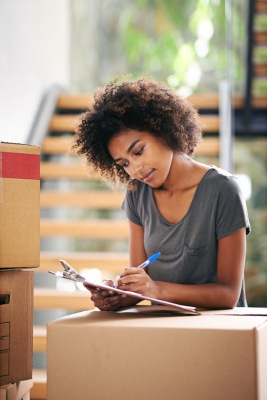 Whether you're moving down the street or across the country, moving can be a challenge. Being fully prepared for your move is necessary to keep stress to a minimum when moving day arrives. During a move, planning and list-making become important tasks. One of the many lists you should be making is a list of essential supplies for the move, and for your first few nights in your new home.
Moving Out Essentials Checklist
Making a list of moving out essentials can reduce stress and make the moving process as seamless as possible, as you'll be far more prepared when moving day arrives.
This moving out essentials checklist focuses on important and often forgotten items that will make your first night in your new home more comfortable.
Your moving out essentials checklist should include the following.
An overnight bag, containing
Your toothbrush, essential toiletries and any medication
Pajamas
One set of clean clothes
Bathroom supplies
Make sure you have everything set aside to ensure your bathroom is immediately ready for use.
Include toilet paper, hand soap, body wash and shampoo.
Don't forget towels!
Kitchen supplies
Pack silverware, plates and mugs.
If the rest of your items will take a few days to arrive, include a pan you can use for a variety of meals.
Don't forget dish soap and a dishcloth.
Miscellaneous supplies
Include scissors, and any other supplies that you'll need for unpacking.
Pack an all-purpose cleaning spray and sponge.
Pack toys and stuffed animals to comfort children.
Pack pet food and anything your pet needs daily.
Pack a flashlight, batteries, phone charger and a laptop or tablet for entertainment or work.
Pack a medical kit containing bandages and emergency supplies.
Essential Things to Buy When Moving Out
Don't forget the moving out essentials needed before your move, to make the process of packing and moving possible.
This list of things to buy when moving out of home focuses on packing materials and practical items to assist with the move itself. Purchase these items ahead of your move to start packing before moving day, and continue to use them as your move takes place.
Your list of essential things to buy when moving out of the home should include:
Boxes
Packing tape
Bubble wrap
Packing paper
Packing foam
Stretch wrap
Tie-down straps
Moving blankets
Mattress bags
You may wish to rent or buy:
Dollies
Hand trucks
Moving carts
Lift straps
Carpet cleaner
Moving truck
Trailer

Moving Out Must-Haves
In a hurry? If you can't buy everything listed above, these are the moving out essentials we suggest you prioritize to make your move as smooth as possible.
All items in your overnight bag
Bathroom supplies
Cell phone & charger
Boxes, packing tape, bubble wrap and scissors
Find Moving Help
We hope our list of moving out must-haves has been helpful. Add the above and any other items personal to you to your own list of moving out essentials.
Even with an excellent moving out essentials list, moving can be a challenge. For protective packing materials, packing and unpacking services, and all other moving services, contact Atlas Transfer & Storage. We'd be happy to help with every part of your move.